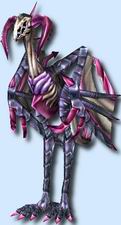 Ageshu (Japanese: アーケシュ, Ākeshu) are a family of wading bird-like enemies in Xenoblade Chronicles and Xenoblade Chronicles 2.
Xenoblade Chronicles
They are exclusive to Prison Island. They move and behave very similarly to Flamii, but have a more demonic appearance. Only two types of Ageshu exist. Both have the ability to inflict Instant Death with their talent art Killer Snipe IV.
Minor Enemy
Unique Monster
Xenoblade Chronicles 2
Normal Minor Enemies
Unique Monster