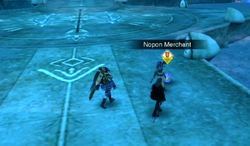 Ancient Ceremony Offerings is a Story Quest in Xenoblade Chronicles. It is automatically triggered at the Sororal Statues of Satorl Marsh during the course of The Ancient Ceremony. It is required to complete The Ancient Ceremony.
Objectives
Results
"You have collected the 4 offerings. It's time to go to the Sororal Statues to perform the ceremony."
Ad blocker interference detected!
Wikia is a free-to-use site that makes money from advertising. We have a modified experience for viewers using ad blockers

Wikia is not accessible if you've made further modifications. Remove the custom ad blocker rule(s) and the page will load as expected.