The future doesn't belong to you!


For those who have not completed

Xenoblade Chronicles

, this page or section may contain spoilers regarding the plot. Discretion is advised.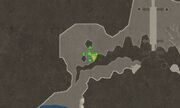 Atael (Japanese: アテル, Ateru) is a High Entia in Xenoblade Chronicles. He is the son of Vol'aren, and Cian's brother. He can be found running around near Vol'aren and Cian southeast of the Fountain of Hope, past the escalator in Alcamoth.
After the events at the Mechonis Core, he can be found in Frontier Village north of the Reservoir, under the roots near the ship from 6:00 to 15:00. He can be difficult to see among the foliage.
Affinity
Trade (Alcamoth)
Trade (Frontier Village)
Quest