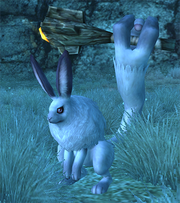 Bunnias are rabbit-like enemies in Xenoblade Chronicles. Unlike Bunnits, which are found on grassy plains, Bunnia are found only in Satorl Marsh, suggesting that they have adapted to a marshy habitat. Bunnia have a tail with a hand on the end, which can either be used to grab things, hit opponents, or generally act like a hand or arm. The tail-arm will hold an item depending on the type of Bunnia that it is. One Superboss is a Bunnia.
There are less Bunnia types than Bunnit or Bunniv:
Minor Enemies
Superboss
Gallery
Ad blocker interference detected!
Wikia is a free-to-use site that makes money from advertising. We have a modified experience for viewers using ad blockers

Wikia is not accessible if you've made further modifications. Remove the custom ad blocker rule(s) and the page will load as expected.