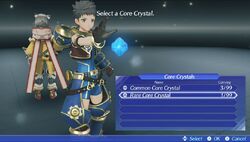 Core Crystals are items in Xenoblade Chronicles 2. They are collected throughout the game's progression. Drivers can resonate with Core Crystals by touching them to create and awaken Blades who endow their Driver with power and a weapon.
Types of Core Crystals
Common Core Crystal
Rare Core Crystal
Legendary Core Crystal
Inherited Core Crystal - Sheba
Beastly Core Crystal - Wulfric
Sealed Core Crystal - Herald
Roc's Core Crystal - Roc
Vess's Core Crystal - Vess
Lucky Core Crystal - Kasandra
Praxis's Core Crystal - Praxis
Ad blocker interference detected!
Wikia is a free-to-use site that makes money from advertising. We have a modified experience for viewers using ad blockers

Wikia is not accessible if you've made further modifications. Remove the custom ad blocker rule(s) and the page will load as expected.