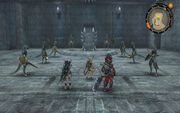 Igna (Japanese: イグーナ, Igūna) are a reptilian family of bipedal enemies in Xenoblade Chronicles and Xenoblade Chronicles 2.
Xenoblade Chronicles
Except for the Fiery Ignas who attack Colony 6, Ignas are found exclusively in Satorl Marsh. Ignas are similar in appearance, and may be related to Kromars. The Fiery Ignas, at level 37, are the most powerful Igna. A group of kindred Ignas can use Chain Attacks.
The behaviour, adornments and social structure of Ignas strongly suggest they are an intelligent race, but they can still be harmed by the Monado unlike the Homs, Nopon and High Entia peoples of Bionis.
There are three models of Ignas.
Normal Minor Enemies
Quest Exclusive Enemies
Unique Monsters
Xenoblade Chronicles 2
Ignas can be found in the Kingdom of Uraya. Some of the high-level Ignas can be found riding Rhinons.
Normal Minor Enemies
Quest Exclusive Enemies
Unique Monsters
Quest Exclusive Bosses
Gallery