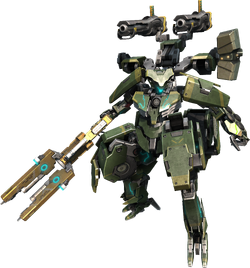 Inferno is a Medium Type Skell unit in Xenoblade Chronicles X. Inferno is one of the Skells developed and manufactured by BLADE in New Los Angeles. It is the main model for general mass production. The Inferno vehicle is a sort of futuristic armed van.
Description
Inferno is a custom Medium Frame based Skell model. This is the main model chosen for large-scale production & deployment. It has a high durability and balanced attack performance, but has less evasion as a trade-off.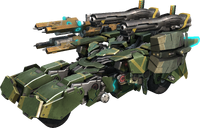 The level 30 Inferno frame costs 345,000 Credits and the level 50 frame costs 2,764,000 Credits.
Its standard equipment is the shoulder-mounted "B-Gatling", specially developed alongside this model.
Overdrive
Inferno is equipped with the HIBANA Overdrive, which grants the following effects:
Zero fuel usage
Appendage heal
Ranged damage up
Thermal reflect
Gallery
Ad blocker interference detected!
Wikia is a free-to-use site that makes money from advertising. We have a modified experience for viewers using ad blockers

Wikia is not accessible if you've made further modifications. Remove the custom ad blocker rule(s) and the page will load as expected.