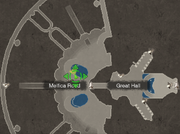 Ma'crish (Japanese: ミュキシリア, Myukishiria) is a High Entia NPC in Xenoblade Chronicles. She can be found in Alcamoth on the south side of the pond north of the shop. If she has not been recruited to Colony 6, she can be found at the Refugee Camp on Bionis' Leg after the events at the Mechonis Core.
In Colony 6, she leaves a house in front of the Reconstruction HQ at 6:00. She then talks around the Reconstruction HQ court until 9:00. She then moves to Hoko's food stand.
Inviting to Colony 6
Affinity
Trade (Alcamoth)
Trade (Refugee Camp)
Trade (Colony 6)
Quests
Gallery
Ad blocker interference detected!
Wikia is a free-to-use site that makes money from advertising. We have a modified experience for viewers using ad blockers

Wikia is not accessible if you've made further modifications. Remove the custom ad blocker rule(s) and the page will load as expected.