Mefimefi (Japanese: メフィメフィ) is a Nopon in Xenoblade Chronicles. She can be found in the middle of the Military District of Colony 9, and upstairs in Colony 6, south of the Heart-to-Heart upstairs near the entrance.
Inviting to Colony 6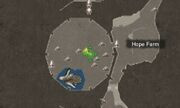 Affinity
Trade (Colony 9)
Trade (Colony 6)
Quests
In Xenoblade Chronicles 2
Mefimefi is a quest-exclusive enemy in Xenoblade Chronicles 2. She is fought as a level 60 Nopon enemy during the wave 10 of the This Year's Heropon Challenge Battle, available as downloadable content from the Challenge Battle Mode Pack of the Expansion Pass.
Gallery