Spoiler detected! View with caution!


For those who have not completed

Xenoblade Chronicles X

, this page may contain spoilers regarding the plot. Discretion is advised.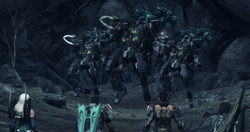 Mission Exclusive Enemies are special enemies in Xenoblade Chronicles X. They are unique and appear exclusively during a related Mission. Most are also mission enemies, as they must be defeated to complete said mission. They can only be defeated once per playthrough, there are similar to the Quest Exclusive Enemies in Xenoblade Chronicles.
Due to the way the plot progresses, all Story Exclusive Enemies and Bosses from Chapter 3 onwards are also Mission Exclusive.
List of Mission Exclusive Enemies
Legend:
| Enemy | Type | Region | Mission | Mission Type |
| --- | --- | --- | --- | --- |
| Intimidator Simius | Mi | Primordia | We Were Soldiers | Affinity Mission |
| Matinal Evello | Mi | Primordia | Renewed Will | Affinity Mission |
| Brume Auravis | Mi | Primordia | Renewed Will | Affinity Mission |
| Fighter Grex | Mi | Primordia | A Day in the Life | Affinity Mission |
| Sailing Grex | Mi | Primordia | A Day in the Life | Affinity Mission |
| Chasm Forfex | Mi | Oblivia | A Friend in Need | Affinity Mission |
| Fierce Vigent | Mi | Oblivia | A Friend in Need | Affinity Mission |
| Qmoeva Divider | Mi | Oblivia | Foggy Dilemma | Affinity Mission |
| Marnuck Crafter | Mi | Oblivia | Foggy Dilemma | Affinity Mission |
| Marnuck Analyst | Mi | Oblivia | Foggy Dilemma | Affinity Mission |
| Shallows Grex | Mi | Primordia | Nine Lives | Affinity Mission |
| Greedy Forfex | Mi | Primordia | Nine Lives | Affinity Mission |
| Arrow Germivore | Mi | Noctilum | Close Comrades | Affinity Mission |
| Arrow Cinicula | Mi | Noctilum | Close Comrades | Affinity Mission |
| Marnuck | Mi | Oblivia | Spy Games | Affinity Mission |
| Bizarre Insidia | Mi | Primordia | The Ties That Bind | Affinity Mission |
| Alexa Special | SBo | Industrial District | Weaponized | Affinity Mission |
| Trump Papil | Mi | Sylvalum | Weaponized | Affinity Mission |
| Trump Arenatect | Mi | Sylvalum | Weaponized | Affinity Mission |
| Marnuck Soldier | Mi | Noctilum | Manhunt | Affinity Mission |
| Marnuck Commander | Mi | Noctilum | Manhunt | Affinity Mission |
| Gwin | SBo | Industrial District | Boot Camp | Affinity Mission |
| Ga Buidhe | Mi | Oblivia | A Challenger Approaches | Affinity Mission |
| Zo Borri | Mi | Oblivia | A Challenger Approaches | Affinity Mission |
| Zo Fwar | Mi | Oblivia | A Challenger Approaches | Affinity Mission |
| Dimnet Xiphias | Mi | Sylvalum | New in New LA | Affinity Mission |
| Unyielding Forfex | Mi | Oblivia | Arms and the Man | Affinity Mission |
| Rotund Caro | Mi | Sylvalum | Soldier of the Harriers | Affinity Mission |
| Stout Caro | Mi | Sylvalum | Soldier of the Harriers | Affinity Mission |
| Scout Galdr | Mi | Noctilum | Rapid Misfire | Affinity Mission |
| Scout Qmoeva | Mi | Noctilum | Rapid Misfire | Affinity Mission |
| Demise Ictus | Mi | Primordia | Then and Now | Affinity Mission |
| Gleaming Sphinx | Mi | Oblivia | Then and Now | Affinity Mission |
| Telethia, the Endbringer | Mi | Noctilum | The Nopon Heir | Affinity Mission |
| Gaff Pugilith | Mi | Sylvalum | Bottoms Up | Affinity Mission |
| Running Shark | SBo | Noctilum | My Dream | Affinity Mission |
| BLADE Trooper | Mi | Noctilum | My Dream | Affinity Mission |
| BLADE Sniper | Mi | Noctilum | My Dream | Affinity Mission |
| Heinous Blatta | Mi | Noctilum | The Mad Monk | Affinity Mission |
| Heinous Forfex | Mi | Noctilum | The Mad Monk | Affinity Mission |
| Disaster Vigent | Mi | Primordia | The Little Rich Girl | Affinity Mission |
| Grudge Tersqual | Mi | Cauldros | To Serve Nopon | Affinity Mission |
| Menacing Marnuck | Mi | Primordia | Blitzkrieg A route | Affinity Mission |
| Marnuck Gunner | Mi | Primordia | Blitzkrieg | Affinity Mission |
| Guard Qmoeva | Mi | Primordia | Blitzkrieg A route | Affinity Mission |
| Assault Galdr | Mi | Primordia | Blitzkrieg A route | Affinity Mission |
| Marnuck Van | Mi | Primordia | Blitzkrieg B route | Affinity Mission |
| Assault Puge | Mi | Primordia | Blitzkrieg B route | Affinity Mission |
| Shield Galdr | Mi | Primordia | Blitzkrieg B route | Affinity Mission |
| Tower Qmoeva | Mi | Primordia | Blitzkrieg B route | Affinity Mission |
| Oc-serv Yabar | Mi | Oblivia | A Great Divide | Affinity Mission |
| Zealot Glennar | Mi | Noctilum | Bozé's Way | Affinity Mission |
| Prone Fighter | Mi | Noctilum | Bozé's Way | Affinity Mission |
| Prone Box | Mi | Noctilum | The King of Fear | Affinity Mission |
| Prone Hearthkeeper | Mi | Noctilum | The King of Fear | Affinity Mission |
| Blood-king Gelvo Banth | SBo | Noctilum | The King of Fear | Affinity Mission |
| ST816: Stalio | SBo | Cauldros | Bozé's Ignorance | Affinity Mission |
| Trigger Scintimure | Mi | Cauldros | Bozé's Ignorance | Affinity Mission |
| Marnuck Commander (Sylvalum) | Mi | Sylvalum | Reporting for Duty | Affinity Mission |
| Marnuck Soldier (Sylvalum) | Mi | Sylvalum | Reporting for Duty | Affinity Mission |
| Gale Milsaadi | Mi | Oblivia | Yelv's Partner | Affinity Mission |
| Nameless Caladar | Mi | Cauldros | Lionhearted | Affinity Mission |
| Colubrim | Mi | Oblivia | Mia Grows Up | Affinity Mission |
| Hardy Aprica | Mi | Cauldros | A Present for Hope | Affinity Mission |
| Corpse Sacrifole | Mi | Cauldros | A Present for Hope | Affinity Mission |
| Whimsical Duoguill | Mi | Primordia | Myles to Go | Normal Mission |
| Big Suid | Mi | Primordia | City Saviors | Normal Mission |
| Devil Mephite | Mi | Noctilum | Data Miner | Normal Mission |
| Jovial Saltat | Mi | Noctilum | A Proper Chopper | Normal Mission |
| Wood Tectinsula | Mi | Noctilum | Adventure! | Normal Mission |
| Falconine Jacul | Mi | Oblivia | Mighty Mia | Normal Mission |
| Slab Cinicula | Mi | Primordia | Close Encounters | Normal Mission |
| Abyssal Blatta | Mi | Primordia | Close Encounters | Normal Mission |
| Briggs | SBo | Primordia | The Celeste Three | Normal Mission |
| Fosdyke | SBo | Primordia | The Celeste Three | Normal Mission |
| Moorehouse | SBo | Primordia | The Celeste Three | Normal Mission |
| Rowdy Potamus | Mi | Primordia | Emotion Commotion | Normal Mission |
| Marnuck Quartermaster | Mi | Noctilum | Rescue at the Ensconced Citadel | Normal Mission |
| Marnuck Trooper | Mi | Noctilum | Rescue at the Ensconced Citadel | Normal Mission |
| Stagnant Grex | Mi | Primordia | Water Woes | Normal Mission |
| Stagnant Terebra | Mi | Primordia | Water Woes | Normal Mission |
| Odsent | SBo | Primordia | Training Day | Normal Mission |
| Napopon Incarnate | SBo | Oblivia | The Divine Nopopon | Normal Mission |
| Nipopon Incarnate | SBo | Cauldros | The Divine Nopopon | Normal Mission |
| Nopopon Incarnate | SBo | Noctilum | The Divine Nopopon | Normal Mission |
| Nupopon Incarnate | SBo | Sylvalum | The Divine Nopopon | Normal Mission |
| Bold Cinicula | Mi | Primordia | Cinicula Assault | Normal Mission |
| Buoyant Pugilith | Mi | Sylvalum | It's-a Mia! | Normal Mission |
| Lineage | SBo | Cauldros | Alex's Last Stand | Normal Mission |
| Impulse Qmoeva | Mi | Cauldros | Alex's Last Stand | Normal Mission |
| DV482: Duvel | Mi | Cauldros | Alex's Last Stand | Normal Mission |
| Agile Caecus | Mi | Noctilum | Dodonga Caravan | Normal Mission |
| Slovity Pagus | SBo | Primordia | Cavern Crushers | Normal Mission |
| Armored Sphinx | Mi | Primordia | Cavern Crushers | Normal Mission |
| Marnuck Scout | Mi | Cauldros | Until the End | Normal Mission |
| Phantom Seidr | Mi | Cauldros | Until the End | Normal Mission |
| Guard Monoceros | Mi | Cauldros | My Angel, My Lana | Normal Mission |
| Intra Monoceros | Mi | Sylvalum | Predator and Prey | Normal Mission |
| Oc-serv Seivo | Mi | Sylvalum | Predator and Prey | Normal Mission |
| Definian Pawn | Mi | Sylvalum | Predator and Prey | Normal Mission |
| Imp Lophid | Mi | Primordia | Here Come the Brides | Normal Mission |
| Purge Purgovent | Mi | Noctilum | The Voltant Visionary | Normal Mission |
| Vigil Forfex | Mi | Primordia | The Good Thief | Normal Mission |
| Bio Visigel | Mi | Cauldros | Going Viral | Normal Mission |
| Brazen Falsaxum | Mi | Noctilum | House Call | Normal Mission |
| Parched Terebra | Mi | Noctilum | No-show Nen'celeg | Normal Mission |
| Dryland Auravis | Mi | Noctilum | No-show Nen'celeg | Normal Mission |
| Prone Keeper | Mi | Oblivia | The Trading Floor | Normal Mission |
| Prone Fighter (Oblivia) | Mi | Oblivia | The Trading Floor | Normal Mission |
| Slovity Pagus | SBo | Primordia | Slovity's Rampage | Normal Mission |
| JS178: Jushe | SBo | Oblivia | Sun'celeg Rises | Normal Mission |
| Jacul Ire | Mi | Sylvalum | Castle in the Sky | Normal Mission |
| Mortal Jacul | Mi | Primordia | The Queen Is Dead | Normal Mission |
| Queen Jacul | Mi | Cauldros | The Queen Is Dead | Normal Mission |
| Lowly Terebra | Mi | Primordia | Setting Forth | Normal Mission |
| DE913: Dieara | SBo | Primordia | Attack on Biahno Hills | Normal Mission |
| Metal Puge | Mi | Oblivia, Sylvalum | Unknown Assailant | Normal Mission |
| Galdr Raven | Mi | Sylvalum | Unknown Assailant | Normal Mission |
| Atropos Puge | Mi | Cauldros | Rites of Ruin | Normal Mission |
| Clotho Puge | Mi | Cauldros | Rites of Ruin | Normal Mission |
| Lachesis Puge | Mi | Cauldros | Rites of Ruin | Normal Mission |
| TW772: Trinn | Mi | Cauldros | Rites of Ruin | Normal Mission |
| Twin Qmoeva | SBo | Cauldros | Rites of Ruin | Normal Mission |
| Cross Qmoeva | SBo | Noctilum | Frontier Spirit | Normal Mission |
| Raging Cantor | Mi | Primordia | Lakeside Getaway | Normal Mission |
| Ajoa Cantor | Mi | Primordia | Lakeside Getaway | Normal Mission |
| SG002: Slenna | SBo | Sylvalum | Good Fortun | Normal Mission |
| Definian Guard | Mi | Sylvalum | Good Fortun | Normal Mission |
| Cliff Galdr | Mi | Sylvalum | Good Fortun | Normal Mission |
| Lineage | Mi | Oblivia | Shotgun Diplomacy | Normal Mission |
| BLADE Trooper | Mi | Oblivia | Shotgun Diplomacy | Normal Mission |
| BLADE Sniper | Mi | Oblivia | Shotgun Diplomacy | Normal Mission |
| Array Insidia | Mi | Noctilum | Lone Survivors | Normal Mission |
| Mist Milsaadi | Mi | Sylvalum | White Lifehold | Normal Mission |
| Gale Qmoeva | Mi | Sylvalum | White Lifehold | Normal Mission |
| Milsaadi Fate | Mi | Sylvalum | White Lifehold | Normal Mission |
| Milsaadi Fini | Mi | Sylvalum | White Lifehold | Normal Mission |
| Haze Milsaadi | Mi | Sylvalum | White Lifehold | Normal Mission |
| Hungry Auravis | Mi | Primordia | Muimui's Meltdown | Normal Mission |
| Strong Auravis | Mi | Primordia | Muimui's Meltdown | Normal Mission |
| Enforcer Glennar | Mi | Oblivia | Prone Sweet Prone | Normal Mission |
| Harvey | SBo | Sylvalum | Special Delivery | Normal Mission |
| BLADE Trooper | Mi | Sylvalum | Special Delivery | Normal Mission |
| Faded Nopopotamus | Mi | Sylvalum | Special Delivery | Normal Mission |
| Siphon Qmoeva | Mi | Oblivia | A Dish Served Cold | Normal Mission |
| Vanitas Seidr | Mi | Oblivia | A Dish Served Cold | Normal Mission |
| Cunning Sylooth | Mi | Sylvalum | Turf War | Normal Mission |
| Daunting Sylooth | Mi | Sylvalum | Turf War | Normal Mission |
| Autosentry | Mi | Primordia | Haywire! | Normal Mission |
| Vanguard Glennar | Mi | Oblivia | Kidnapped: Uzoma Vassago | Normal Mission |
| Ajiba Falgo | SBo | Oblivia | Kidnapped: Oll Valdileo | Normal Mission |
| Mujiba Falgo | SBo | Oblivia | Kidnapped: Rada Valdileo | Normal Mission |
| Loda Gorida | SBo | Primordia | Forbidden Love | Normal Mission |
| Prone Fighter (Primordia) | Mi | Primordia | Forbidden Love | Normal Mission |
| Linker Scirpo | Mi | Noctilum | The Ultimate Price | Normal Mission |
| Gus | Mi | Noctilum | The Ultimate Price | Normal Mission |
| BLADE Sniper (Rust Lake) | Mi | Noctilum | The Ultimate Price | Normal Mission |
| Unruly Petramand | Mi | Oblivia | The Ultimate Price | Normal Mission |
| HH100: Hierana | SBo | Cauldros | Mia is Missing! | Normal Mission |
| Dune Adsecula | Mi | Oblivia | A New Life | Normal Mission |
| Garuda Jacul | Mi | Oblivia | A New Life | Normal Mission |
| Ga Bewhe | SBo | Primordia | Gold Rush | Normal Mission |
| Last Galdr | Mi | Primordia | Snipe Hunt | Normal Mission |
| Marnuck Hunter | Mi | Sylvalum | Professorial | Normal Mission |
| Dolba the Wrecker | SBo | Sylvalum | Professorial | Normal Mission |
| Gadd | SBo | Sylvalum | Professorial | Normal Mission |
| BLADE Sniper | Mi | Sylvalum | Professorial | Normal Mission |
| Gu Ladha | SBo | Primordia | Lend an Ear | Normal Mission |
| Ladha Caladar | SBo | Primordia | Lend an Ear | Normal Mission |
| Grenade Pizza F | SBo | Oblivia | Murder Most Foul | Normal Mission |
| Brute Millepod | Mi | Cauldros | The Unbreakable Sword | Normal Mission |
| Grand Lophid | Mi | Primordia | The Bug Whisperer | Normal Mission |
| Milsaadi Lieutenant | Mi | Noctilum | Slovity's Revenge | Normal Mission |
| Master Milsaadi | Mi | Oblivia | Slovity's Revenge | Normal Mission |
| BLADE Sniper | Mi | Primordia | Alien Nation | Normal Mission |
| BLADE Soldier | Mi | Primordia | Alien Nation | Normal Mission |
| BLADE Trooper | Mi | Primordia | Alien Nation | Normal Mission |
| Drove Adsecula | Mi | Sylvalum | The Duel (Part III) | Normal Mission |
| Gi Zang | Mi | Sylvalum | The Duel (Part III) | Normal Mission |
| Jacul Rage | Mi | Sylvalum | The Duel (Part III) | Normal Mission |
| Tectonic Puge | Mi | Cauldros | The Duel (Part IV) | Normal Mission |
| MO037: Moore | SBo | Cauldros | The Duel (Part IV) | Normal Mission |
| Bastion Glennar | Mi | Noctilum | The Art of War | Normal Mission |
| Prone Fighter | Mi | Noctilum | The Art of War | Normal Mission |
| Blood Despair | SBo | Cauldros | Rise of the Blood Lobster | Normal Mission |
| Marnuck | Mi | Oblivia | Plans of Attack | Normal Mission |
| Compulsive Tainted | Mi | Noctilum | Dead Men Tell No Tales | Normal Mission |
| Marnuck Commander | Mi | Noctilum | Dead Men Tell No Tales | Normal Mission |
| Lightning Strike | SBo | Sylvalum | The Line of Fire | Normal Mission |
| Subdued Arenatect | Mi | Sylvalum | The Line of Fire | Normal Mission |
| Dread Blatta | Mi | Primordia | An Ancient Legend A route | Normal Mission |
| Dread Petramand | Mi | Primordia | An Ancient Legend A route | Normal Mission |
| Dread Cinicula | Mi | Primordia | An Ancient Legend A route | Normal Mission |
| Blues Blatta | Mi | Primordia | An Ancient Legend B route | Normal Mission |
| Blues Petramand | Mi | Primordia | An Ancient Legend B route | Normal Mission |
| Blues Cinicula | Mi | Primordia | An Ancient Legend B route | Normal Mission |
| Telethia Plume | Ne | Noctilum | The Planet's Guardian | Nemesis |
| Yggralith Zero | Ne | Cauldros | The Final Menace | Nemesis |
| Volkampf, the Pursuer | Ty, SE | Primordia | Chapter 2 | Story Mission |
| Prone Scout | Mi, SE | Primordia | Chapter 3 | Story Mission |
| Prone Ruffian | Mi, SE | Primordia | Chapter 3 | Story Mission |
| Glennar | MBo | Primordia | Chapter 3 | Story Mission |
| Prone Destroyer | Mi, SE | Noctilum | Chapter 4 | Story Mission |
| Marnuck Rook | Mi, SE | Noctilum | Chapter 4 | Story Mission |
| Goetia | MBo | Noctilum | Chapter 4 | Story Mission |
| Targeter Zig | Mi, SE | Oblivia | Chapter 5 | Story Mission |
| Platoon Qmoeva | Mi, SE | Oblivia | Chapter 5 | Story Mission |
| Chief Qmoeva | MBo | Oblivia | Chapter 5 | Story Mission |
| Tainted Caro | Mi, SE | Noctilum | Chapter 6 | Story Mission |
| Tainted Sphinx | MBo | Noctilum | Chapter 6 | Story Mission |
| Assault Qmoeva | Mi, SE | Oblivia | Chapter 7 | Story Mission |
| Pursuit Qmoeva | Mi, SE | Oblivia | Chapter 7 | Story Mission |
| Almandal | MBo | Oblivia | Chapter 7 | Story Mission |
| Scout Puge | Mi, SE | Primordia | Chapter 8 | Story Mission |
| Strike Pugilith | Mi, SE | Primordia | Chapter 8 | Story Mission |
| Assister Quo | Mi, SE | Primordia | Chapter 8 | Story Mission |
| Blitz Qmoeva | Mi, SE | Primordia | Chapter 8 | Story Mission |
| Assault Qmoeva | Mi, SE | Primordia | Chapter 8 | Story Mission |
| Pursuit Qmoeva | Mi, SE | Primordia | Chapter 8 | Story Mission |
| Dagahn | MBo | Commercial District | Chapter 8 | Story Mission |
| Ryyz | MBo | Commercial District | Chapter 8 | Story Mission |
| Ga Jiarg | MBo | Sylvalum | Chapter 9 | Story Mission |
| Ga Buidhe | MBo | Sylvalum | Chapter 9 | Story Mission |
| Wrothian Enacter | MBo | Sylvalum | Chapter 9 | Story Mission |
| Wrothian Sneaker | MBo | Sylvalum | Chapter 9 | Story Mission |
| Caladar | SBo | Sylvalum | Chapter 9 | Story Mission |
| Deva Caladar | SBo | Sylvalum | Chapter 9 | Story Mission |
| Vasara | MBo | Sylvalum | Chapter 9 | Story Mission |
| Zu Pharg | MBo | Sylvalum | Chapter 10 | Story Mission |
| Force Seidr | Mi, SE | Cauldros | Chapter 11 | Story Mission |
| Prog Ares | MBo | Cauldros | Chapter 11 | Story Mission |
| Vita | MBo | Lifehold Core | Chapter 12 | Story Mission |
| Soldier Chimera | Mi, SE | Lifehold Core | Chapter 12 | Story Mission |
| Lao | MBo | Lifehold Core | Chapter 12 | Story Mission |
Gallery