Nopo'rikh is a Nopon in Xenoblade Chronicles. He can be found anytime at the Armu farm in Colony 6.
After completing Missing Lodger he lives with Ma'crish and will be in the Armu farm from 04:00 to 12:00. If the Smelly Perfume A route is chosen during Looking for Freedom, he will move out and stay in the Armu farm 24 hours a day.
If Nic comes to Colony 6, Nopo'rikh asks the party to help him in Nic's Training. Nopo'rikh's and Nic's destinies are decided after defeating the Canyon Valencia and Tempest Vangs.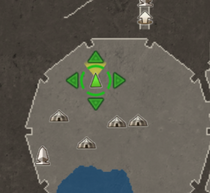 In the English language version of the game, unlike most Nopon, Nopo'rikh noticeably speaks with fewer grammar tics associated with Riki and most other Nopon, explaining that it's because he had lived with Ma'crish in Alcamoth for so long. However, not being native to Alcamoth, Nopo'rikh's speech still has more grammar tics than Kaleka, a ninth generation Nopon native of Alcamoth who speaks fully articulated sentences with no Nopon grammar tics whatsoever.
Arrival in Colony 6
Housing must be Level 2.
Special must be Level 2.
Nopo'rikh shows up in the Armu farm upon accepting the quest.
Affinity
Nic
Ma'crish
Minana (Only if Minana migrates to Colony 6)
Trade
Quests
In Xenoblade Chronicles 2
Nopo'rikh is a quest-exclusive enemy in Xenoblade Chronicles 2. He is fought as a level 61 Nopon enemy during the wave 9 of the This Year's Heropon Challenge Battle, available as downloadable content from the Challenge Battle Mode Pack of the Expansion Pass.