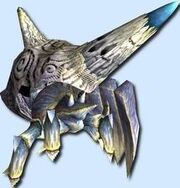 Paguls (Japanese: パグール, Pagūru) are a family of shelled enemies in Xenoblade Chronicles and Xenoblade Chronicles 2.
Xenoblade Chronicles
Pagul are only found at Eryth Sea and on Valak Mountain. They resemble the Krabble, another kind of enemy provided with a shell. The horn of the Pagul at Eryth Sea shine brightly during the night. There are two types of Paguls, they are all involved in a Quest objective.
Minor Enemies
Unique Monster
Xenoblade Chronicles 2
Minor Enemies