The future doesn't belong to you!


For those who have not completed

Xenoblade Chronicles

, this page or section may contain spoilers regarding the plot. Discretion is advised.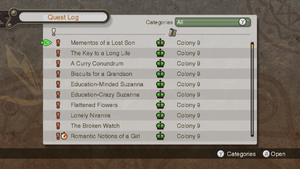 Quests are a collection of requests in Xenoblade Chronicles that the many people of Bionis and Mechonis ask of the party, or that are automatically triggered in the course of the story. Most quests do not need to be completed to advance the story, but some do. There are also Timed Quests, which must be completed before a certain point in the story, such as the refugees moving back to Colony 6 or before the destruction of Galahad Fortress. There are also some Mutually Exclusive Quests, where the party must choose one option or the other; depending on the choice, the Affinity Chart will grow differently. There are also some Story Quests and a few Surprise Quests that will appear during the progression of the story. Quests can vary from delivering letters to defeating monsters that roam Bionis and Mechonis. Very rare items and experience points can be acquired from them.
Altogether, there are 480 quests, 130 are timed quests, 50 are mutually exclusive quests (M.E.) (that to say 25 mutually exclusive to each other), 12 are surprise quests, and 31 are story quests.
Infobox
On the Xenoblade Wiki, all quests have an infobox on their page containing information about them, as shown below.
Giver

The name of the NPC who offers the quest, or "Story Quest" or "Surprise Quest".

Unique Comments

The player character who will make unique comments that are specific to the quest if they are in the active battle party. This is not to be confused with the party support comments that characters make to the team leader, which they can repeat for any quest.

Location

The place where the quest can be received. The name of the area appears first, followed by the nearest landmark or location within that area.

Time

The time of day during which the quest giver can be found.

Prerequisites

Conditions which must be met before the quest will become available. These can include a point in the story, area affinity, NPCs registered on the Affinity Chart, NPCs having a specific relationship on the Affinity Chart, and other quests being completed or uncompleted.

Objectives

The specific tasks that must be completed, as listed in the Quest Log, along with hints or tips. If a quest has two possible outcomes, the objectives will be listed separately for the A Route and B Route.

Rewards

The rewards for completing the quest.
Type of Quests
Quests by Area
Ad blocker interference detected!
Wikia is a free-to-use site that makes money from advertising. We have a modified experience for viewers using ad blockers

Wikia is not accessible if you've made further modifications. Remove the custom ad blocker rule(s) and the page will load as expected.