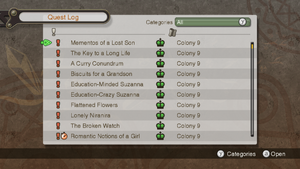 Quests are a collection of requests that the many people of Bionis and Mechonis ask of the party. Most quests do not need to be completed to advance the story, but some do. There are also timed quests, which you must complete before a certain point in the story like the refugees moving back to Colony 6 or before the destruction of Galahad Fortress. There are also nineteen mutually exclusive quests, where the party must choose one option or the other: depending of the choice, the Affinity Chart will grow differently.
Quests can vary from delivering letters to defeating monsters that roam Bionis and Mechonis. Very rare items and experience points can be acquired from them, so be sure to do as many as possible!
Altogether, there are 480 quests, with 19 mutually exclusive (M.E.).