The Radio Tower is a landmark in Xenoblade Chronicles. It is located in the south of Sword Valley. It overlooks Galahad Fortress from the side. When the party first reaches the Radio Tower, Secure the Radio Tower is triggered, where the party must defeat the Lightning Ronove, along with the other Mechon surrounding it.
Enemies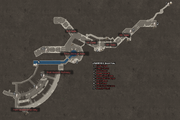 Ad blocker interference detected!
Wikia is a free-to-use site that makes money from advertising. We have a modified experience for viewers using ad blockers

Wikia is not accessible if you've made further modifications. Remove the custom ad blocker rule(s) and the page will load as expected.