Save the Worker is a Story Quest in Xenoblade Chronicles. It is received automatically at the Whitewing Palace after the story events upon arrival at Alcamoth.
Objectives
Results
"You saved the worker. Now he should be able to continue repairing the transporter."
Note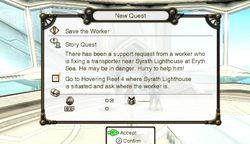 Despite being triggered at Alcamoth, this quest is registered amongst the Eryth Sea Quests.