Speed V Boosters are Mechonis boosters in Xenoblade Chronicles. They are only available as a reward from one quest.
Sources
Quest rewards
Appearance
For other armour pieces with the same appearance, see Armour Recognition.
Fiora II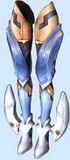 Notes
Although the names of most Mechonis leg parts use the plural form 'Boosters', in this instance the game uses the singular form 'Booster'.