Spoiler detected! View with caution!


For those who have not completed

Xenoblade Chronicles 2

, this page may contain spoilers regarding the plot. Discretion is advised.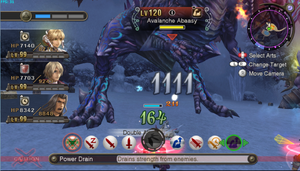 Superboss is the unofficial term used on this Wiki to designate the only enemies above level 99 in the Xenoblade Chronicles series. They are Unique Monsters but not Bosses per se. Nevertheless they are the strongest enemies in their respective games.
In Xenoblade Chronicles
Except for the Final Marcus, the Unique Monsters that are over level 100 in Xenoblade Chronicles will always be red-tagged regardless of the party's level. The red tags augment the Unique Monsters' agility, damage resistance, and damage dealt to targets. These level 100+ Unique Monsters also have several special abilities. These may include, but are not limited to:
Resistance to Aura Seal, etc.
Damage resistance
Topple counter mechanism, such as topple damage spike or topple time reduced
Immunity to Daze, Sleep, Arts Seal, Strength Down, etc.
Unusually high attack power (however, physical art power multipliers are generally lower than normal)
Extremely strong damage/debuff spike
Level X (10) talent arts
These unique monsters appear after the events of Mechonis Core, except for Final Marcus, which appears starting on the first visit of Valak Mountain. All of the superbosses in Xenoblade Chronicles can drop any part of the Glory armour set; they also all drop the rare Veritas Glyph, needed for a Love Source.
Superbosses
In Xenoblade Chronicles 2
In Xenoblade Chronicles 2, most of the superbosses can only appear after the start of the final chapter.
Superbosses
External Links
The characters used in these Videos are Melia, Shulk and Dunban. Break and Topple was used against all of them.
Gallery
Ad blocker interference detected!
Wikia is a free-to-use site that makes money from advertising. We have a modified experience for viewers using ad blockers

Wikia is not accessible if you've made further modifications. Remove the custom ad blocker rule(s) and the page will load as expected.