The future doesn't belong to you!


For those who have not completed

Xenoblade Chronicles

, this page or section may contain spoilers regarding the plot. Discretion is advised.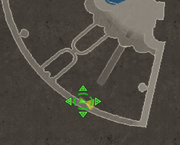 Vidian (Japanese: ビビアン, Bibian, Vivian) is a High Entia in Xenoblade Chronicles. She can be found far southwest of the Imperial Palace on the road at the western edge of the map, standing directly across from the southernmost escalator, from 06:00 to 18:00.
After the events at the Mechonis Core, she is trapped in Whitewing Palace. Once she is rescued, she will move to the Ether Plant in Eryth Sea.
Affinity
Trade (Alcamoth)
Trade (Alcamoth) ※1
※1 During Restoring the Capital only
Trade (Eryth Sea) ※2
※2 After completing Vidian Rescue Mission
Quests
Gallery