The future doesn't belong to you!


For those who have not completed

Xenoblade Chronicles

, this page or section may contain spoilers regarding the plot. Discretion is advised.
You Will Know Our Names (名を冠する者たち, Those Who Bear Their Name) is a Field Track in Xenoblade Chronicles, composed and arranged by ACE+. It is track 9 of the fourth disc from the Xenoblade Original Soundtrack, and track 7 on the Xenoblade Chronicles Special Soundtrack.
This music is heard almost solely during Unique Monster battles (with the exception of Frenzied Bana) and will begin playing as soon as the Unique Monster has detected the lead party member.
It also plays during a few boss battles in the game (making it a unique and rare replacement for the ordinary boss battle theme, An Obstacle in Our Path) such as the second battle against Gadolt in Agniratha. Interestingly, in all three such cases, the cutscenes leading into the respective battles (which also have this theme playing) have something to do with powering up a Monado:
This song is also one of the tracks appearing in Super Smash Bros. for Nintendo 3DS / Wii U (both versions).
The Japanese title seems to reference the Unique Monsters that use this theme, as they literally bear their names whenever the player locks onto them, whereas all normal enemies simply use their species name (or model number, in the case of Mechon).
Live Recording
The Live Recording is an official live performance of five songs from Xenoblade Chronicles to celebrate the release of Xenoblade Chronicles 3D. These songs were performed and orchestrated by ACE+ band accompanied by a string quartet, in particular the live recording of You Will Know Our Names.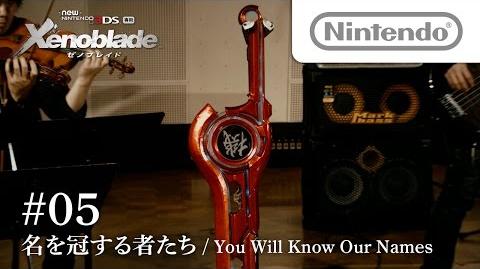 Ad blocker interference detected!
Wikia is a free-to-use site that makes money from advertising. We have a modified experience for viewers using ad blockers

Wikia is not accessible if you've made further modifications. Remove the custom ad blocker rule(s) and the page will load as expected.