Yura (Japanese: ユーリィ, Yūrī) is a High Entia in Xenoblade Chronicles. He can be found in Alcamoth on the north side of the central escalator on the ground floor, near the entrance. After the events at the Mechonis Core, he can be found in Harict Chapel in Valak Mountain. If he migrates to Colony 6, he can be found south of the Armu Farm, leaning against the backside of the houses.
Inviting to Colony 6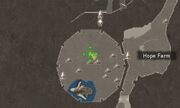 Housing must be Level 3.
Reconstruction percentage must be 25%.
Affinity
Trade (Alcamoth)
Trade (Valak Mountain)
Trade (Colony 6)
Quests
Ad blocker interference detected!
Wikia is a free-to-use site that makes money from advertising. We have a modified experience for viewers using ad blockers

Wikia is not accessible if you've made further modifications. Remove the custom ad blocker rule(s) and the page will load as expected.